What if I told you that you that you that you didn't have to pay taxes anymore?  You'd be skeptical, right? You should be.  But what if I told you that there was this an opportunity to make it "feel" like you didn't pay tax on your income someday?  Well, let me introduce you to a little friend that I like to call, the 'Roth IRA' and that's the feeling you get when you take money from it in retirement.
The Roth IRA: The greatest thing since sliced bread!  Seriously, they're amazing.
I'm going to teach you all about them, and I hope that by the end of this, you'll see the light and think, "I should start one of those."
By the end of this, you will know:
What a Roth IRA is
How to start one
What the rules are
How magical they are
Let's get into it by first describing what a Roth IRA is:
What Is a Roth IRA?
First of all, starting with the basics, a Roth IRA is a type of an account.  Okay, I'm going to use an analogy that one of my old bosses used to use and I like it.  Think of a chocolate candy bar. **note** I do not condone the excessive eating of chocolate candy bars **  I digress.  Picture yourself buying a candy bar at the convenient store.  Or, if you don't really eat candy bars, picture yourself buying a healthy "bar" at Whole Foods.  That healthy bar or candy bar that you pick up at a store really has two components to it: the wrapper, and the chocolate inside.  The wrapper IS the Roth IRA.  The chocolate is the investment (stocks, bonds, mutual funds, ETF).  You can put whatever you want inside the wrapper.  But the wrapper itself, is the Roth IRA.  It is the account, or the shell.  The type of account that you invest in, is what actually provides the tax benefit.
A Roth IRA is a retirement account, make no mistake about it.  It does, however, a nice option to tap into the money, if you need it, prior to retirement.  The name comes fromSenator William Roth, of Delaware, who was the politician who sponsored the bill in legislature to propose the specific tax-favored treatment to this type of account.  The IRA stands for 'Individual Retirement Account.'
In all, the Roth IRA is an account that provides amazing tax-benefits if used for retirement.  The way I think of it, is that it is an account that promotes saving for retirement.  To entice people to save for retirement, this type of account was created, that provides favorable tax treatments.  Roth IRAs were designed for retirement savings, and boy do they deliver.
What follows are specific details and benefits of Roth IRAs.  This is not meant to be a be all, end all post about all of the nuances and special circumstances with Roth IRAs.  Those posts exist and you can find one HERE and HERE.  The first one is Michael Kitces' blog, 'A Nerd's Eye View.'  Kitces is THE thought leader in the financial planning industry and is amazingly smart.  The second is Jeff Rose's blog, 'Good Financial Cents.'  Jeff is a Certified Financial Planner, financial planning business owner, and one of, if not the BEST personal finance bloggers out there.  Those are two awesome blogs by people much smarter than me!  Check em' out.
Tax Benefits of a Roth IRA

Roth IRAs offer awesome tax benefits.  Here's how they work:  you put money into them, the money grows tax-free and you take the money out tax-free.  I know!  Crazy right?  There are important details to remember, though.  Let me explain:
Putting money in: you're putting money into a Roth IRA with after-tax dollars; meaning, you got paid from your job, taxes were withheld from your paycheck or you manually paid taxes, then you're left with net income deposited into your checking account.  You use that money to then invest in a Roth IRA.  That's after-tax money.
Tax-free growth: when you put the money into the Roth IRA (the candy bar wrapper), with that money, hopefully you invest it (the chocolate).  Over a long period of time, hopefully those investments have increased.  Inside of a Roth IRA, when you take the money out of the Roth IRA according to the rules, you don't have to pay tax on those gains, like you would investing with a regular non-IRA brokerage account, upon selling the investments.  This tax-free growth can be HUGE over the long haul.
Taking the money out: when you're retired, and it's time to take money out of your Roth IRA, if you've followed the rules of a Roth IRA, you can take that money out to live on, TAX FREE!  So if you take out $2,000, you can actually deposit $2,000 into your checking account, without worrying about paying tax on it.  That's also a huge benefit!
So, to recap the Roth IRA tax benefits: you put money into a Roth IRA with after-tax money, you invest that money inside of a Roth IRA, that money grows tax-free, then you take that money out in retirement, tax-free.  Magical, right?
Roth IRA vs. Traditional IRA
Maybe you're wondering what the difference is between a Roth IRA and a Traditional IRA.  Many people have heard of a Traditional IRA, but it blows my mind how many people I encounter who still don't quite know what a Roth IRA is.  Let me compare the two accounts.
| | | | |
| --- | --- | --- | --- |
| | Put Money In | Growth | Take Money Out |
| Roth IRA | With after-tax $ (no tax deduction) | Tax-free | Tax-free |
| Traditional IRA | With pre-tax $ (may take a tax deduction) | Tax-deferred | Taxable |
A few additional and important details to know about Roth IRAs
Earlier I mentioned that to receive preferential tax treatment, you needed to abide by the IRA rules.  Well, here are some of those rules and guidelines:
Must be funded with earned income (so you have to have a job that provides earned income to be eligible to participate).
The age that you must attain to enjoy the full preferential tax-treatment of the Roth IRA is 59 ½.
If you take money out prior to this age, taxes may be due on the growth, and a 10% early withdrawal tax (some exceptions apply).
If you make 'too much' money, you may not be able to contribute. The following data is for 2017 and for 'Single Tax Filers.'

Eligibility for contribution phases out at income levels of $118,000; and you are ineligible to contribute at $133,000

If eligible, contribution limits apply. This means that you can only put in up to a maximum per year.

For 2017 = $5,500/year
If over the age of 50 = $6,500/year (they offer a $1,000/year additional "catch-up contribution" amount.

If you have the Roth IRA for 5 years or longer, you can take out your principle for any reason, penalty & tax free. (This flexibility is one of the reasons I love the Roth IRA.  Although I don't condone tapping into a retirement focused account early, I know that 'real life' happens and sometimes it's the only option.)
If you take the funds out before that 5-year mark for your first home purchase, you may avoid penalty & tax.

Other exceptions apply as well, like paying for school costs, etc.. You can find a list of the exceptions.

Spousal Roth IRAs can be opened for a spouse that may not have any earned income.  The spousal IRA contributions are based on the working spouse's income and limitations do apply.
Other Benefits of a Roth IRA
When looking at the benefits of investing in a Roth IRA, you really need to look at it compared to a non-IRA account AND a Traditional IRA to figure out what account is best for you.
There are handy dandy calculators to help you quickly figure out what account is going to pay off the most.  A lot of the result will be based on your age, income, investment return assumptions, tax bracket, retirement age, and IRA contribution amounts.  For me and my personal situation, considering all of these factors and after about 30 years, the Roth IRA produced nearly $80,000-$100,000 more money than the Traditional IRA did.
Check out the calculators for yourself and run the numbers!  Bankrate provides these calculators, and I think they are one of the best.
Roth IRA vs. Traditional IRA Calculator – Bankrate
Comparing the Roth IRA to a Taxable Brokerage account produced even more staggering differences.  Tax deferred growth is is a powerful force and when it's compounded year after year, the positive effects just keep getting bigger and bigger.
As you're trying to determine which type of account you may want to open (Roth IRA vs Traditional), a general rule is 'Do you think you'll be in a higher tax-bracket, or lower-tax bracket in retirement than you are now?'  Most people believe that they'll be in a lower tax bracket, simply because they won't have their employment income any longer.  With some general assumptions, if you think that you'll be in a lower tax bracket in retirement, a Roth IRA is the way to go.  If you think you'll be in a higher tax bracket in retirement, then a traditional IRA may be the way to go.
If in doubt, I'd suggest going for the Roth IRA.
So, as you can see from everything above, and as you've read, Roth IRAs are awesome!  The real magic happens when you start them early, early, early!  Letting those funds build up with tax-free growth, is just huge and over the long-haul, will reward you handsomely.  I also really like the flexibility of the Roth IRA.  If you NEED to take funds out of a Roth IRA, you at least have the option to, without having to pay huge taxes & fees.
Best Places to Open a Roth IRA
So now that you know what a Roth IRA is, how it works and the tax benefits, I wanted to share places to actually open up a Roth IRA.
There are several options for you to decide where to open a Roth IRA, depending up on what type of investor you are
Are you more of a hands-off, let someone else do it for you type of person? Or, do you want some hands-on experience and are you comfortable buying mutual funds and monitoring them?
For the DIY'er: consider looking at Ally Invest or TD Ameritrade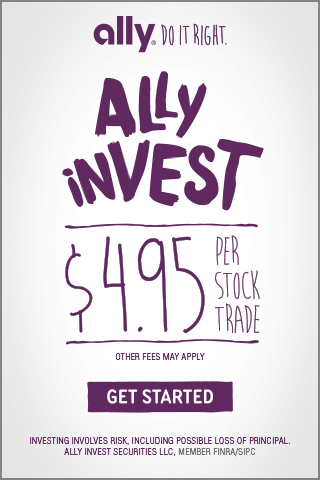 Ally Invest is an awesome online option with some of the lowest costs around. $4.95 for stock trades and $9.95 for mutual fund trade commissions.  They have an open architecture platform, which gives you the option to invest in various types of investments. They are not quite as well known as TD Ameritrade, Schwab or Bettermet, but offer the lowest cost option, with open architecture, and a solid online experience, which puts them towards the top of the list for me.  Also, you should know that Ally Invest acquired Tradeking which was a player in the online brokerage world for quite some time.  So while Ally Invest is new to this, Tradeking has years of experience, which is what Ally Invest essentially bought… smart play.
There is no minimum amount needed to open an Ally Invest account, and there are no annual account fees.  I'd say that's pretty good!
TD Ameritrade is an awesome choice to open a Roth IRA.  They offer some of the best analytics tools around, super low costs to trade ($6.95/ stock trade).  They offer no-commission and no-transaction fee ETFs and Mutual Funds, so if you're planning on using those types of investments, check to see if the investments that you're looking at are on their list.  Otherwise, they charge $49.99 commission/mutual fund transaction.  That's a little on the pricey side, but if you're adhering to a buy-and-hold strategy, it isn't that expensive over a long period of time.
I've raved about Betterment in the past, and I will again here.  They offer a top-notch investment experience that you can use for your Roth IRA or regular, taxable brokerage account.  Their automated investment solution is one of the best, in my opinion.  They use Vanguard funds (mostly, if not all ETFs), which have very, very low internal costs. Betterment does charge an annual fee, and for that fee, you're getting ongoing and regular maintenance and possibly even proactive service.  With the previous two options, all of the service and maintenance is 100% on you to implement.   Betterment does it for you, and very well.  Their fees start around 0.35% and go down to 0.15% as your account balance is bigger.  The more you have, the lower your percentage fee.  In all, Betterment is an excellent solution for your Roth IRA.
Motif offers an automated investing approach, which is super advanced.  They offer very low-cost investing, and what sets them apart, is their 'motif' structure.  A 'motif' is an investing theme.  You can choose these, for the most part, pre-packaged portfolios that align with a certain 'theme.'  Why I list Motif in this section of some of the best places to open a Roth IRA, and why I like them, is that they are the leaders in automated, impact investing, or Socially Responsible Investing.  If you want to invest your Roth IRA dollars into a socially responsible portfolio, Motif has you covered.
There you have it:
You are now a Roth IRA rockstar.
Remember, do additional research and make sure that you are choosing the right type of account and investments for YOU.  For your personal situation.  For YOUR goals.  For YOUR situation.  Also, please don't overanalyze the decision to just START!  I am guilty of analyzing things too much, then failing to begin something that I know I should, because I wasted time trying to figure out which one was BEST or CHEAPEST or both.  Do some research, feel comfortable with your decision, then DO IT!
Join the Financial Gusto Community
Sign up to receive my newsletter and recent posts automatically
No obligations - No spam - Just honest to goodness financial tips to help you live your best life, with gusto!